* RESULTS BELOW *
Saturday
Round robin format. Games to 13 starting at 12:00.
Sometime after the last game at the fields - dinner (fried chicken, pulled pork sandwiches, plus some sides) with a couple kegs of beer. All included as part of team fee!
Sunday
Brackets based on Saturday results. Games to 15 starting at 9:30.
General
Standard 11th Edition Rules with the following.
Soft time cap at 90 minutes: Complete the current point and play to 1 plus the highest score. Note: The "current point" starts immediately after the previous score.
No hard time cap.
Schedule
| | |
| --- | --- |
| # | Team Name |
| 1 | PoT - Pals of Thing |
| 2 | Archive |
| 3 | Madison Throwback |
| 4 | Age Against the Machine |
Game
Time
Field
Teams
Score
G1
SAT 12:00
13
PoT vs. Age
13 - 6
G2
SAT 12:00
12
Archive vs. Throwback
13 - 7
G3
SAT 02:00
13
PoT vs. Throwback
13 - 3
G4
SAT 02:00
12
Archive vs. Age
13 - 5
G5
SAT 04:00
13
PoT vs. Archive
12 - 8
G6
SAT 04:00
12
Throwback vs. Age
10 - 13
G7
SUN 09:30
13
PoT vs. Throwback
15 - 5
G8
SUN 09:30
12
Archive vs. Age
13 - 10
G9
SUN 11:30
13
PoT vs. Archive
14 - 9
G10
SUN 11:30
12
Age vs. Throwback
15 - 8
FINAL RESULTS
| | |
| --- | --- |
| Place | Team Name |
| 1st | PoT - Pals of Thing |
| 2nd | Archive |
| 3rd | Age Against the Machine |
| 4th | Throwback |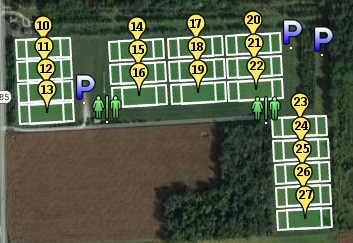 FYI - Wright Wing Conspiracy tournament is on fields 14 through 22