CUPA Announces its New Strategic Plan
Posted at Aug 5 2021 01:10 PM by Liz Anderson
---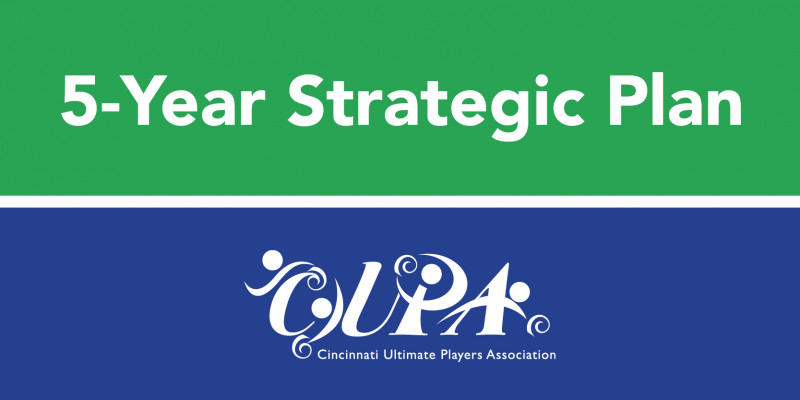 Over the past year, the board has been working behind the scenes to identify our top goals to accomplish over the next 5 years. With a focus on growth, inclusion, and long-term success, we're excited to see our vision come to life!
These five essential goals outlined below will be the motivation for our organization's strategic approach to the next five years (2021-2025).
Goal #1: Cincinnati Ultimate prioritizes the importance of fostering a diverse and inclusive environment for our community. All of our business and outreach activities must remain consistent with this purpose as we promote Spirit of the Game.
Supporting Tactics
Empowered and Impassioned Diversity, Equity, and Inclusion Committee

Education is the first step

Board education plan in place by the end of 2021

Action plan to expand out education from there after 2021

Continuing the use of town hall forums

Reducing barriers to entry

Apparel and equipment drives to provide for those who can't afford

Creating flexible payment structures that reduce barriers to entry

Facilitating playing opportunities to service traditionally under-represented populations / demographics

Create relationships with other organizations to bridge the gaps

Hosting inclusive social events beyond the ultimate field

Social Awareness

Creating a clearer definition of what we stand for

Rewriting mission statement to incorporate inclusivity and identify values

Adding a vision statement

Continually revisiting our policies and standards to adhere to our updated mission

Cincinnati Ultimate Foundation

Evaluating the opportunity of creating separate foundation to support these efforts

Ability to apply for grants and funding beyond our current scope

Consider pathway to 501(c)3
Goal #2: Cincinnati Ultimate will re-establish our organizational identity and create a brand that properly represents the community that we serve.
Supporting Tactics
Mission Statement

Agreement to revisit the mission statement in 2021

Branding

Complete transition from Cincinnati Ultimate Players Association to Cincinnati Ultimate

Rebrand in 2021

Organization Structure

Board of Directors

Reduce size to 11 total members

Provide role description requirements for Board members

Institute proper election format by next election cycle in 2022

Committees

Formalize and Empower Committee Structure

All Committees must have Board representation

Dayton Ultimate

Create Dayton Committee to develop structure for growth

Employees

Solidify Director of Operations role

Create plan for hiring second employee (targeting a Youth Director)

Strategic Planning

Publish 5-year strategic plan in 2021

Revisit by 2025 to prepare for next cycle

USA Ultimate / Ohio Ultimate

Remain involved with discussions around the development of Ohio Ultimate
Goal #3: Cincinnati Ultimate will ensure that our core business maintains the highest standards possible. Focusing on sustainability and growth will lead to long-term success as an organization.
Supporting Tactics
Execute Safe Return to Play Post-Pandemic

Will maintain equitable considerations at the same time

Expand and Improve Resources for Coaches

Fostering a collaborative community for our coaches

Providing resources to support our coaches

A motivated community of coaches is essential for growth at the youth level

Youth development will remain a priority, as it has always been

Clinics will be imperative as we bridge the gap out of the time off

Middle school development will create a larger base of players moving into high school

High school expansion will remain the cornerstone and allow for organic middle school and clinic growth below

Representation at the Youth Club Championships

Increase CUPA oversight and collaboration with the program

Capture feedback from program directors as to how Cincinnati Ultimate can best provide support

Adult Leagues

Experience Levels

Differentiating by purpose of league (recreational versus developmental) as opposed to current experience level

Create more opportunities for beginner players

Maintain ultimate activities through all four seasons of the year

Expand to additional locations across the year

Identify available field locations and foster relationships with those providers

Adult leagues (particularly summer leagues based on volume) remain essential to the core sustainability of our organization

Improve our metrics around league growth and player retention

Improve our channels for collecting participant feedback

Continuity between participation levels

Colleges

Need to make a more targeted effort to engage our local college teams

Considering unilateral support similar to the way we do at the youth level

Club Teams

Networking with leadership is important to develop relationships

Club Team Committee can improve sustainability and continuity between our local teams

Hosting Major Events

Cincinnati Ultimate LLC remains intact for these purposes

Commitment to consider hosting one major event every other year if volunteer base can support
Goal #4: Cincinnati Ultimate will expand our community engagement and organizational transparency. Through marketing strategies, targeted communications, and leveraging the skill set of our Director of Operations, we intend to increase awareness and clarity about our sport and organization.
Supporting Tactics
Social Media Engagement

Centralize social media strategy across platforms with Director of Operations

Organizational Transparency

Consistent Board of Director and Committee meeting minutes available online

Current information posted about Board, Committees, and Volunteer Opportunities

Building out centralized Google Drive for operational efficiency

Creating Slack channels for Board and Committee activities

Creating shared Google calendar

Regular Communications / Announcements

Centralize communication systems through Director of Operations

Maintain a master communications strategy / calendar

Consistent and timely league registration announcements

Evaluate Partnership Opportunities

Examples include: Disc Golf, Field Providers / CVBs, Sponsors, Other Organizations (Parks Departments, summer camps, etc.), Youth Groups, YMCAs, Summer Day Camps, Schools, Athletic Directors

Strategic Advertisements

New avenues for advertising our leagues

Social media advertising

Website Development

Website development and maintenance will stay in-house

Expanding Website Committee to distribute some work

Improved social media integration

Improved Data export functionalities
Goal #5: Cincinnati Ultimate will expand our infrastructure and leverage available resources.
Supporting Tactics
Investigate what similar organizations have tried in efforts to acquire land

Upgrade storage facilities and ease of access

Maintain current staff (Director of Operations) with intention to bring on a second hire (Youth Director)

Continue to maintain fiscal responsibility for sustainability of the organization

Annual budgeting process resumes when we return to play

Volunteers

Continued appreciation for our amazing volunteer base, including the annual Volunteer Appreciation Event

Define our volunteer benefits, incentives, and opportunities to more easily promote

Equipment Management

Centralize disc ordering process with our Director of Operations

Implement inventory system

Consider other equipment provisions / improvements for our leagues (scoreboards, consistent Spirit prizes, etc.)