CUPA Public Statement on Coronavirus Concerns #13
Posted at Aug 5 2021 09:00 AM by Liz Anderson
---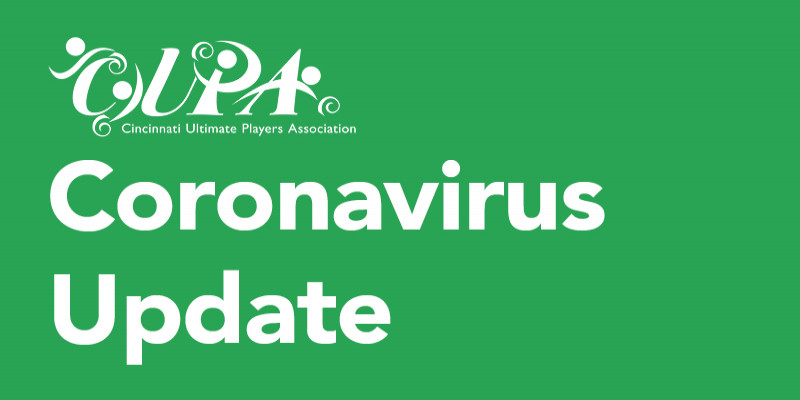 Cincinnati Ultimate Players Association
Public Statement on Coronavirus Concerns #13
Revised 2021-08-03
Dear CUPA Community,
Happy Tuesday! Can you believe that it's already August?! I hope that all of you are doing well and enjoying your summer so far.
As a follow-up from our last announcement a few weeks ago, we want to confirm that we are moving forward with the plan to lift COVID-19 restrictions and requirements for CUPA activities (excluding juniors leagues) starting this weekend at our summer league tournaments (August 7-8).
A few specific notes of clarification on the statement above:
This is for activities involving participants at least 12 years or older (thus excluding juniors leagues). The reason is that vaccines are still not available for individuals under the age of 12, so we see different risks at play for that age group.

We will continue to monitor the situation and could change this course of action in the event that infection rates rise in the greater Cincinnati area or new risks present themselves (i.e., the Delta variant). We continue to encourage everyone to get vaccinated if you can to help fight against the spread of the disease.

The fact that all of our activities are still outdoors is one of the primary reasons for us to believe that activities can safely continue. Heading into the fall and winter with activities potentially moving indoors, we will be sure to monitor and assess the safety of those events.
We continue to promote the benefits of getting vaccinated and encourage everyone to observe safe social practices according to guidance from local and national health authorities. The difference now is simply that we will no longer be enforcing these requirements or limiting participation as a result. We thank everyone for your understanding and adherence to CUPA guidelines over the past year-plus, and are proud to have maintained a safe environment for our community.
If you have any questions or concerns, don't hesitate to contact us. Take care of yourselves and we'll see you at upcoming CUPA events!
Thanks,
Ryan Gorman
President, CUPA Board of Directors
president@cincinnatiultimate.org
Continue to follow us through these available resources:
Website -- Facebook -- Twitter
The Cincinnati Ultimate Players Association (CUPA)'s mission is to serve as a regional resource, promoting growth in the sport of ultimate and instilling Spirit of the Game™ at all levels of play. CUPA is an Ohio non-profit corporation run primarily by volunteers. CUPA is tax-exempt under IRS section 501(c)(4). To see how CUPA can help you or your organization at any level of ultimate, please visit the website or contact the Board of Directors.